The Range of Platinum Crucibles Available from XRF Scientific
Developers and manufacturers of scientific equipment have been exploiting the unique mechanical characteristics of platinum (Pt) for over 200 years, because of its high melting point, ductility, malleability, and low reactivity. As a result, platinum crucibles have become fundamentally important components for various chemical research applications in laboratory environments.
The applications of platinum crucibles range from XRF sample preparation to ash testing, and each sector requires equipment with highly specialized mechanical properties and differing volumetric dimensions. Pure platinum and its alloys are applied to meet these varying requirements, with a choice of materials available from XRF Scientific, including:
Pure platinum crucibles, with a melting point exceeding 1770°C;
Platinum—rhodium alloys comprising 10%, or 3.5% rhodium, with a melting point in the region of 1780-1850°C;
Platinum—gold alloys containing 5% gold, with a melting point of 1780-1850°C
Platinum—gold—rhodium comprising 5% gold and 5% rhodium, with exceptional combined properties.
XRF provides a range of platinum crucibles using these physiochemical structures. This article will explore these products in more detail: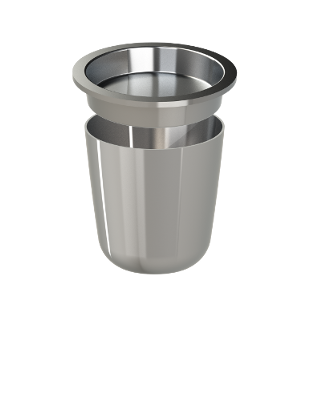 Capsule-Kawin Crucibles
Capsule-Kawin platinum crucibles are available from XRF with capacities of 8-19cc and depths of 15-35mm. They are funnel-shaped with a flat bottom of a standard 20mm diameter, with extraordinary surface properties allowing for accurate chemical analysis.
Loss on Ignition (LOI) Crucibles
Loss on ignition (LOI) tests are commonly applied for analysis of minerals under the strain of ignition, requiring high thermal resistances with low chemical reactivity. XRF offer a standardized platinum crucible for LOI tests, with a shallow depth of 10mm and a low weight of 70g including the crucible's lid.
Low Profile Crucibles
Low profile platinum crucibles feature optional reinforcements to reduce gradual deformation of localized surfaces of the crucible, thereby vastly improving the component's service life. XRF offer a robust line of low profile platinum crucibles with reinforced rims and, or bases, and lids, with standard capacities ranging from 8-125ml. The maximum weight of our low profile platinum crucibles with additional reinforcement is 114g, with an extra 25g attributed to the lid.
Standard Form Crucibles
XRF's wide range of standard form platinum crucibles offer a versatile selection of platinum labware with varied applications. This equipment is available in all the alloys previously mentioned, with the option of reinforcing the lid and, or the base of the crucible itself. Crucible volumes range from 2-700ml, while larger volumetric demands can be met by bespoke equipment.
Volatile Matter Crucibles
Volatile matter platinum crucibles feature a flanged lid for added stability during chemical reactions with increased extremity. XRF manufacture volatile mater platinum crucibles with capacities ranging from 10-50mm in depths of 28-44mm. The maximum weight of our standard flanged cover is 14g.
Platinum Crucibles from XRF Scientific
XRF Scientific is dedicated to the development and manufacture of reliable laboratory equipment capable of producing highly accurate, repeatable results for an array of research or industrial applications.
Our platinum crucible line considers the minute requirements of differing chemical applications, to optimize various laboratory processes with regards to stability, longevity, and susceptibility to various corrosive elements. If you would like any more information about our laboratory equipment, please contact us.