Phoenix II Gas Fusion Machines: Features & Specifications
Versatile and ultra-efficient, gas fusion machines are an industry-standard tool for high throughput sample preparation in inductively-coupled plasma (ICP) and X-ray fluorescence (XRF) applications. The Phoenix line, from XRF Scientific, has set an enviable benchmark for operating performance and sample purity over the last 20 years, servicing almost 1,000 installations around the world.
In 2016, we launched a new generation of gas fusion machines: The Phoenix II range. Building on the demonstrable successes and reliability of the Phoenix brand name, this brand-new instrument introduces new technological innovations that make it the most advanced gas fusion machine available on the market to date.
Phoenix II Gas Fusion Machines: Hardware Analysis
Much like previous iterations of the Phoenix range, the Phoenix II is constructed within an aluminum case with a safe-to-touch glass panel set in the lid. It is a benchtop system that weighs approximately 110kg, with three or six high-performance Inconel or palladium crucible holders. The system can generate peak temperatures of 1150°C (2102°F) and flame temperatures of 1600°C (2912°F).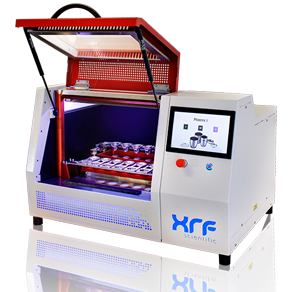 Gas Fusion Machine Specification
One of the standout features of the Phoenix II is its proprietary adaptive burner control system (ABCS). The gas fusion machine can reliably modify gas flow parameters to guarantee that setpoint temperatures are maintained throughout the fusion cycle. This comes courtesy of an advanced user interface (UI) that can facilitate twenty distinct programmable recipes and multiple flame profiles for individual burner behavior.
Alongside this unprecedented burner control and program adaptability, the Phoenix II boasts improved levels of control over distinct phases of the fusion process. Heating can be ramped to user-defined levels, while swirling is carried out by the same proprietary Phoenix homogenization technology of previous gas fusion machines under the brand name.
Using the six-station Phoenix II, up to thirty fused beads can be generated per hour.
Phoenix II Applications
The Phoenix range was envisaged as the final word in gas fusion machines for analytical and industrial fusion experiments alike, with a series of product lines to suit distinct operating environments and throughputs. With the Phoenix II, we aim to service high-technology facilities and rugged applications alike, with a modern, high-precision instrument that performs under the toughest of circumstances.
Gas Fusion Machines from XRF Scientific
XRF Scientific manufactures industry-leading gas fusion machines for ICP and XRF analysis in sectors as varied as forensic analysis and hydrocarbon exploration, providing the underlying tools for some of the most advanced analytical processes available today.
If you would like more information about the Phoenix II, please contact a member of the XRF Scientific team today. Or, if you would like to learn about another product under the same trusted brand name, read our previous blog post Phoenix GO Gas Fusion Machines: Properties & Applications.