Outlining the Crushing Equipment Available from XRF Scientific
To accurately assess the x-ray fluorescent (XRF) properties of a dry, organic sample through XRF spectrometry, the sample must first be prepared with a fusion flux of either lithium metaborate (LiBO2), lithium tetraborate (Li2B4O7), or a mixture of the two with suitable oxidizing additives. The homogeneity of these mixtures can have a significant impact on results accuracy, which is why eutectic flux mixtures are prepared at varying ratios with distinct physiochemical structures. Following eutectic mixture selection, the dry analyte must be reduced to a suitable consistency for fusion using crushing equipment.
Laboratory crushing equipment typically pulverizes dry geological samples using mechanically agitating jaws or gyrating plates. The granulated material is typically then fed through to a divider to separate the analyte into samples of distinct weight profiles. Samples of complex mineralogical compositions may require multiple pulverizing methodologies to accurately prepare a sample for fusion flux.
This article will explore the XRF sample preparation crushing equipment available from XRF Scientific in more detail:
Laboratory Jaw Crushing Equipment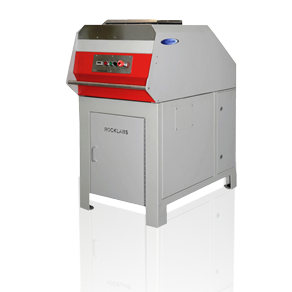 The ROCKLABS BOYD Elite is a world first double-acting jaw laboratory crusher for sample preparation. Where conventional jaw crushing equipment reduces solid samples by gyrating a mechanical jaw against a fixed plate, this instrument uses dual-acting high chrome iron plates that gyrate at both the top and bottom for maximum crushing efficiency. It can hold samples of up to 5kg, and reduce samples by 25 times their original size. Higher capacity variants of the ROCKLABS BOYD crusher are available for preparation of samples up to 20kg.
Sample Crusher & Divider
Crushing equipment can be integrated with dividers to streamline the sample preparation process. The BOYD RSD Elite combines the established crushing capacities of the product line with a vibrating feeder and a rotating sample divider, which rotates at pre-defined speeds to separate granulated solids in single or multiple splits. Linear sample dividers can also be equipped to ROCKLABS BOYD Elite crushing equipment, providing single-pass split of samples based on extremely precise sample weights.
Automated Crushing Equipment
Automated batch mills are critical for high throughput sample preparation environments where low intervention is key for meeting required laboratory workflows. Multiple automated crushing equipment systems are available from XRF Scientific, including:
ABM3000, a fully-programmable sample grinder with an integrated wash-cycle to reduce sample cross-contamination;
AP200, a high-throughput automated crushing system capable of processing up to 200 samples per day through a dual-acting crushing-splitting tower, a continuous ring mill, and a rotating sample divider;
AP300, a dual-system for processing blast hole, R.C, and drill core samples with robust grinding and separating instrumentation;
AP1000R, an ultra-high throughput system for fully-automated processing of up to 800 samples per day, with an integrated cleaning system to negate intervention and vastly improve sample preparation workflow.
Crushing Equipment from XRF Scientific
XRF Scientific provides robust sample preparation solutions for low, medium, and high throughput environments, with unique solutions for application-specific requirements. Our range of crushing equipment features comprehensive innovations, from small footprint double-acting jaw crushers to intuitive automated systems.
Find out how a laboratory crusher works in more detail, or contact us for any more information about our crushing equipment.