Crushing Equipment Suppliers: Why Choose XRF Scientific?
XRF Scientific has a rich history of success in the field of industrial sample preparation, offering a comprehensive suite of solutions for every stage of the process. Our experience in flux preparation for x-ray fluorescence (XRF) and inductively-coupled plasma (ICP) chemical analysis spans decades. We are Australia's foremost supplier of gas and electric furnaces for sample fusion, with unparalleled expertise in the provision of specialist labware in a range of versatile formats.
The backbone of our business focusses on the intermediate preparation of mineralogical samples for XRF and ICP analysis, yet we have also exceeded established performance levels for reducing raw samples to a more manageable format. We are now one of the world's leading crushing equipment suppliers for commercial analytical laboratories, construction material companies, and production mines.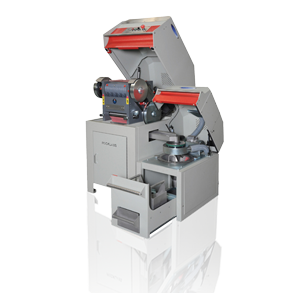 We have been supplying sample preparation solutions to these sectors for years, gaining first-hand experience of industry challenges to develop new solutions for established problems. XRF Scientific are crushing equipment suppliers with a robust understanding of your operating priorities. This understanding has been translated into a comprehensive product range that is tailored for long-service in high-yield processing environments.
Flexible Crushing Equipment Suppliers
Our range of laboratory and industrial crushers is designed to suit all end-use conditions. We offer benchtop laboratory ring mills that provide high purity sample pulverization for small volumes (1 – 100g), with low noise output to avoid disturbing analytical environments. At the other end of our product range, we provide high volume automated batch mills that can reliably and independently process up to 800 samples per day, with input weights ranging to 10kg. XRF Scientific offer one of the broadest product ranges of any crushing equipment supplier, with a global supply and support network to facilitate easy delivery, installation, and ongoing aftercare.
XRF Scientific is represented across the world, with support facilities located in Australia, Europe, and Canada. We are uniquely equipped to help you integrate new crushing equipment into your processing environment, with expert method development services to help you optimise your operating conditions. Existing customers have already relied on us as more than crushing equipment suppliers to assist in the preparation of samples like alumina, cement and clinker, various polymers, and refractory materials.
Beyond crushing equipment supply and method development, we can also provide workshops and training to ensure that your personnel understand the crucial aspects of sample preparation from start to finish. These lectures will provide answers to the most common questions and impart the benefit of our decades-old experience in sample fusion to your end-users.
This comprehensive approach and far-reaching base of experience sets XRF Scientific apart from other crushing equipment manufacturers. We take pride in sharing our knowledge as well as our products, to improve the quality and performance of our customers' sample preparation methodologies.
XRF Scientific: Leading Crushing Equipment Suppliers
XRF Scientific are crushing equipment suppliers with a versatile product range. If you would like to learn about our products in more detail, browse our previous blog posts:
Otherwise, contact us directly if you have any questions.