Using Reference Materials for XRF Analysis
X-ray fluorescence (XRF) analysis enables researchers to accurately map the elemental compositions of a sample by observing extremely weak fluorescent signals in a spectrometry sample chamber. This equipment must display exceptional long-term stability and precision to ensure that test results remain within acceptable parameters. These parameters are regularly monitored using reference materials, which are pre-defined elemental compositions of established laboratory standards.
XRF reference materials are homogenous samples of tightly-controlled molecular contents. They enable analysts to perform precise quality control and assurance tests by providing a recognized industry benchmark from which to test the accuracy of a spectrometer or other measurement instrumentation.

This article will explore the application of reference materials for XRF analysis in further detail:
Fused Calibration Beads
Calibration beads are fused glass discs comprised of certified reference materials. They are carefully prepared to uniform thicknesses with zero surface variation and customizable diameters. These are crucial for XRF calibration setup, ensuring that spectrometers operate to the highest degrees of precision immediately after installation.
However, fused calibration beads deteriorate after prolonged use and are unsuitable for ongoing calibration procedures. These are for preliminary calibration processes, and alternative reference materials must be used to continued calibration.
XRF Drift Monitors
To reduce the risk of ongoing calibration and degraded fluorescent detection rates through mechanical drifting, it is advisable to perform regular process control tests using XRF Drift Monitors. These are applied to test the long-term stability of XRF instruments and ensure that results are accurate to discerning degrees of repeatability.
XRF Drift Monitors and fused calibration beads can be formulated for unique analytical requirements, using ready-to-order reference material mixtures or application-specific combinations.
Granulated Reference Materials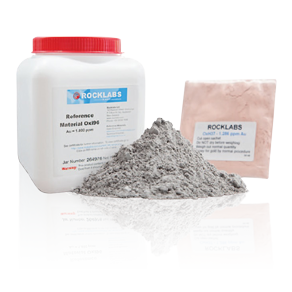 Pulverized reference materials are routinely used for metallurgical assays in a range of geological research and exploration applications. Standard testing methods for precious metals involve energy-intensive and time-consuming fire assay cupellation tests and scorification. These are carried out using a fire assay, a process designed to separate precious metals from extraneous lead by producing a homogenous melt of the material.
It involves melting geological samples with fusion flux mixtures in a ceramic crucible, and manually measuring the remaining elemental composition. XRF analysis can accomplish the same analytical process in a fraction of the time through non-destructive means.
Metallurgical XRF analysis represents a significant investment potential, so it is important that instruments are correctly prepared to recognize the distinct fluorescent patterns for precious elemental compounds. Reference materials for metallurgical assays are typically comprised of specific ratios of granulated precious metals, including:
Gold—silver (Au—Ag);
Platinum—palladium—gold (Pt—Pd—Au).
These enable researchers and miners to monitor the accuracy of spectrometry equipment without destroying valuable mineralogical samples for the purposes of testing and calibration. Typically, granulated reference materials are concerned with the accuracy of gold content observation, hence the exceptional gold value range of reference materials from <0.002 parts per million (ppm) to 30.49 ppm. Numerous Rocklabs reference material products are available from XRF Scientific, with volumes from 30-gram sachets to 2.5 kg jars.
Reference Materials from XRF Scientific
XRF Scientific is a leading supplier of equipment and solutions for XRF and inductively-coupled plasma (ICP) analytical methods. We have provided instruments and materials for laboratory and industrial applications across the world, supporting mineralogical exploration and research with bespoke XRF reference solutions.
If you would like any more information about our reference materials, please do not hesitate to contact us.