Request a Quote
close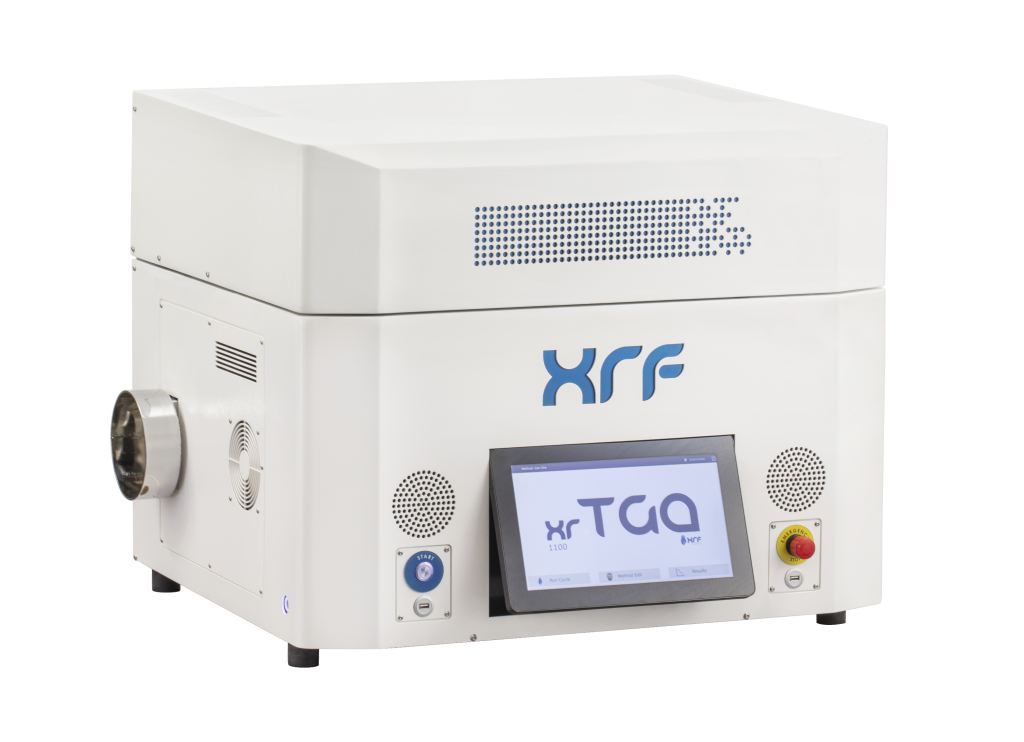 Built with industrial users and large-scale scientific facilities inmind, the XRF Scientific automated macro thermogravimetric analyser (TGA) is a high-throughput solution for a wide range of thermal analysis applications. Our TGA system is based on 30 years' experience developing precise heating and weighing solutions for applications across the full spectrum of science and industry.
Thermogravimetry sets the standard for thermal decomposition testing for parameters as varied as moisture, volatiles, ash, fixed-carbon, and Loss on Ignition (LOI) content. Our TGA analyser leverages proprietary heating and weighing systems to continuously monitor sample mass changes over time as a function of temperature. User-defined thermal programs can be easily established using an intuitive touchscreen interface, enabling customers to establish different thermogravimetric profiles depending on their materials/phenomena of interest.
Our brand-new TGA adds value to high-throughput workflows with an increased sample capacity and greater temperature capabilities without a significant uptick in cost.
Key Features
30 position carousel for larger throughput
Higher maximum temperature range up to 1100° C
Highly automated and user-friendly interface
Fast heating and cooling cycle times
Fully integrated PC without the need for an external unit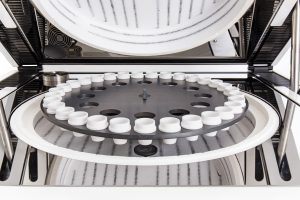 Large Sample Carousel
Our large carousel of 30 sample positions plus 1 reference position allows for high throughput in busy laboratories, whilst maintaining a highly efficient heating chamber.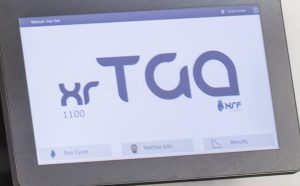 User Friendly Interface
Our PC is built into the TGA, which ensures an external unit doesn't clutter your bench space. A large touch screen interface is fitted, or alternatively plugin in a keyboard and mouse. Results can be accessed remotely for processing.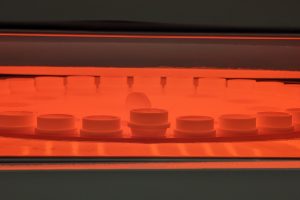 Fast Heating and Cooling Cycles
We understand your laboratory processing time is valuable and you want the results fast.  Innovative design features ensure heating and cooling cycle times are quick and accurate, with noticeable improvements over other machines available on the market.
Atmosphere Control
Integrated software-controlled gas switching for experiments requiring inert or reactive atmospheres.
Integrated Ventilation System
Active ventilation keeps the laboratory free from toxic vapours/odours and further improves the cooling process.
Robust and Safe Design
We have applied decades of knowledge in furnace safety into the TGA. The instrument meets stringent CE standards for external touch temperatures and required safety features. The TGA is built to withstand the harshest laboratory environments, with maximum uptime requirements.
Application Types
Minerals: iron ore mining / steel production, coal, bauxite
Food: flours, pasta, chocolate
Construction materials: cement, limestone/lime
Materials: plastics, alumina, gypsum, agricultural materials, ceramics, pharmaceutical materials
Complying with Standardised methods
Moisture and ash determination in flour – AOAC 925.10 & AOAC 923.03
Ash content in thermoplastics – ASTM D5630-94
Loss on ignition in solid combustion residues – D7348-08
Loss on mass in alumina – AS 2879.1-2000
Loss on ignition in cement – ISO 29581-2:2010 / ASTM C 114
Moisture and loss on ignition in iron ore – ISO 3087:2011 and ISO/TR 18230:2015
Various AOAC, ASTM, ISO and DIN methods
And more …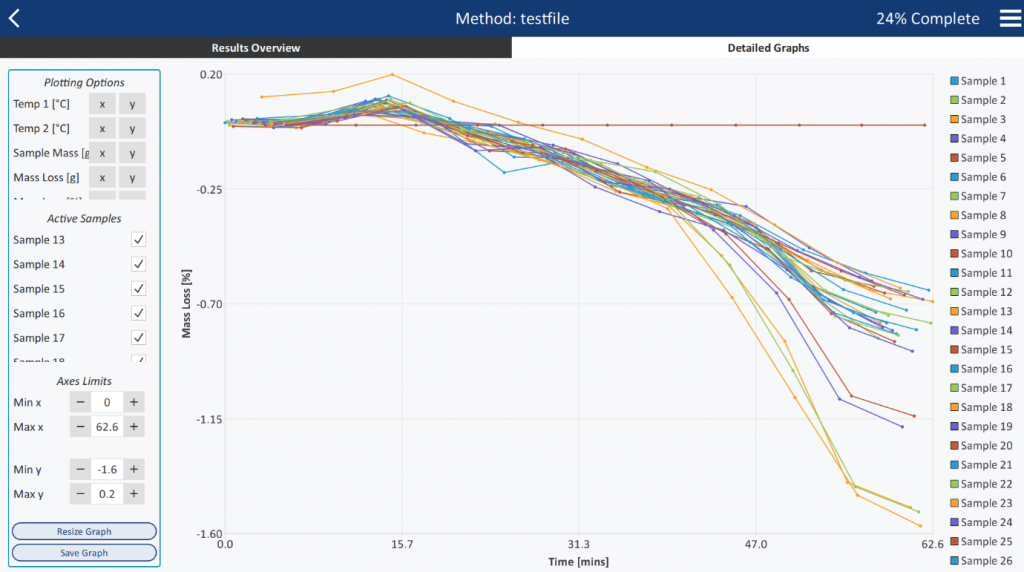 The xrTGA software include a comprehensive set of relevant tools available for parameter settings, diagnostics, real-time data analysis as well as data processing. Analysis software can be accessed on the instrument directly or via a Windows desktop version. Features of the software include LIMS communication, remote access and convenient data export CSV, XML, Excel®.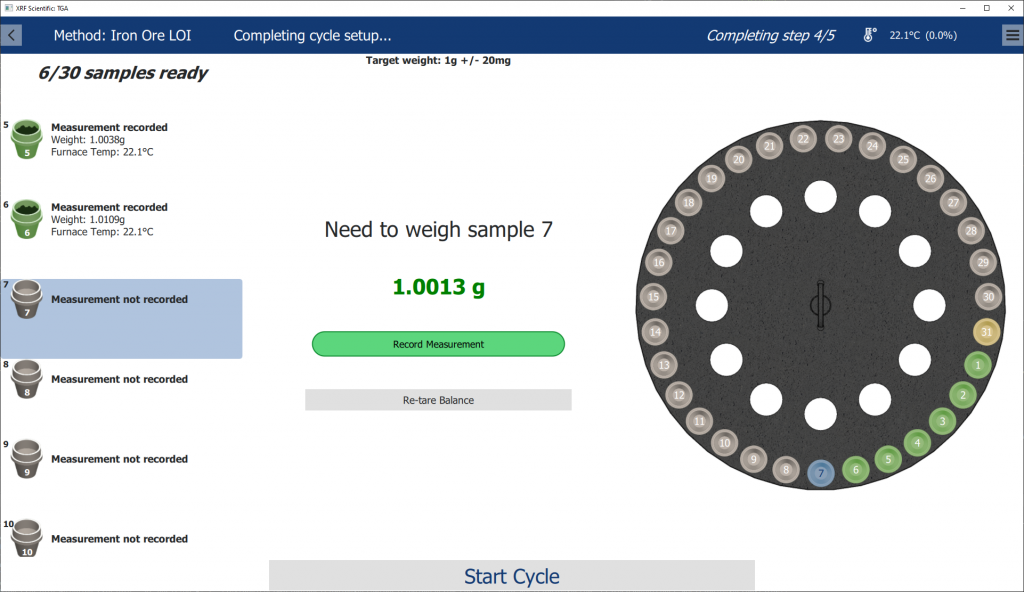 xrTGA1100
Capacity
30 sample positions plus 1 reference position
Sample weight capacity
0.1 – 10g
Weighing precision
± 1%
Resolution
0.1mg
Temperature range
Room temperature to 1100°C
Temperature accuracy
±1°C
Temperature precision
± 1°C at 105°C and ± 2°C at all other ranges
Heating rate
1°C/min to 55°C/min
Furnace cooling
Forced air and multi-height lid opening for faster cool down
Gas flow rate
0l/min up to 40l/min
Power requirements
230 V, 50/60 Hz, max. 32 A
Dimensions (W x D x H)
850 x 755 x 675mm
H 1100mm with open lid
Weight
165kg
Safety and certification
CE marking
Operator safety hand switch points for lid closing
Integrated ventilation system
Over temperature protection safety circuit
| Accessories for xrTGA 1100 | Product Ordering Codes |
| --- | --- |
| Crucible 16ml AI203 | 5100201 |
| Lid AI203 to suit Crucible code 5100201 | 5100202 |
| Platinum Crucible 15ml, Pt, 15g | 5100205 |
| Platinum Crucible Liner, Pt, 8g | 5100206 |
| Crucible 30 position tray | 5100207 |
| Stainless steel tongs for removing lids | 5100208 |