Modutemp Shaking Electric Fusion Machine: Operating Principles
Electric fusion machines set the benchmark for high-purity sample fusion in X-ray fluorescence (XRF) and inductively coupled plasma (ICP) sample preparation. They utilize all-electric heating elements to generate extremely high continuous temperatures (approx. 1250°C/2282°F) in thermally-efficient heating chambers, eliminating the minute risk of cross-contamination via natural gas combustion.
Standard electric fusion machines operate on a simple principle: sample materials are mixed with a borate flux in platinum crucibles and loaded into the mantle, where they are reduced to a molten mixture by process temperatures before being poured into a platinum mold. There are several mandatory steps within each of these processes; each of which is time-consuming and energy-intensive.
The Modutemp shaking electric fusion machine from XRF Scientific was designed to overcome established throughput limitations in XRF and ICP sample preparation. This blog post will outline the Modutemp furnace in greater depth, with a focus on the specifications and operating principles.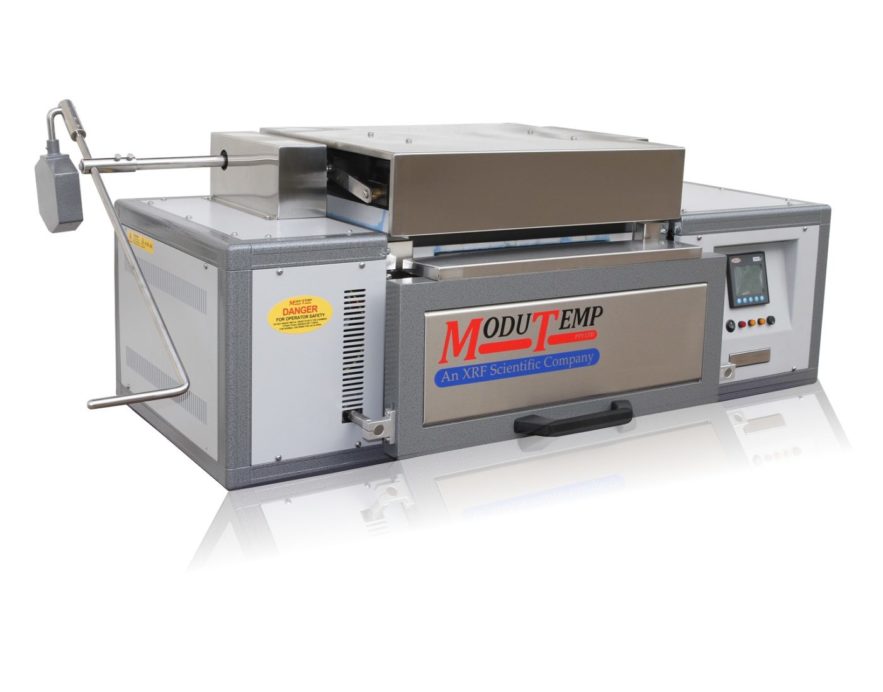 Modutemp Electric Fusion Machine: Hardware Analysis
The Modutemp Shaking electric fusion machine is comprised of a robust twin-skin casing of an extruded aluminum frame and cladding. An air gap separates this outer shell from the steel-encased heating module, allowing a ventilation system to continuously circulate air between the inner and outer skins of the furnace. The lid is also a twin skin stainless steel over steel construction with a counterbalance, enabling safe top-opening for access to the heating chamber.
Within the heating chamber are three single-ended silicon carbide (SiC) heating elements and a refractory hot-face lining of brick and back-up ceramic fiber insulation. The sample material is contained in a high-temperature alloy spindle that is compatible with either crucibles or mouldable. The spindle features a quick-release function so operators can rapidly switch between the two if required.
Electric Fusion Machine Specifications
The Modutemp electric fusion machine is built to exceed conventional fusion furnaces when it comes to high throughput sample preparation. It can consistently operate at temperatures of 1250°C with a power a 6kW, producing as many as 30 fused samples per hour. This comes courtesy of a comprehensive PLC automation function that allows up to seven complete processes to be pre-programmed, facilitating common fusion processes at the touch of a single button. It is also available with a range of standard and optional functions, including:
PID temperature controls and over-temperature protection, with three levels of protection for total control of safety parameters
Dual-stage pneumatic mold cooling
Full ceramic zero contamination for crucible and mold holders
Electric Fusion Machines from XRF Scientific
XRF Scientific is a world leader in the design and supply of fusion furnaces and sample preparation products for XRF and ICP analysis. We offer a range of electric fusion machines for facilities of all scales, from the high throughput Modutemp Shaking electric fusion machine to smaller-scale furnaces for proprietary applications.
If you need any more information about our electric fusion machines, simply contact a member of the team today.