Outlining Phoenix Platinum Crucibles and Moulds
Gas-powered fusion furnaces are often misconceived as inefficient and unsafe compared to electric alternatives, which utilize high-temperature silicon carbide (SiC) heating elements to melt samples in platinum crucibles. However, there are numerous advantages to gas fusion, particularly when coupled with specialized platinum labware.
This blog post will outline the Phoenix platinum crucibles from XRF Scientific, alongside some of the benefits of gas fusion for x-ray fluorescence (XRF) and inductively-coupled plasma (ICP) sample preparation.
Phoenix Platinum Crucibles and Moulds
Phoenix platinum crucibles and molds from XRF Scientific are optimized for use with the Phoenix line of gas-powered fusion furnaces. Standard versions comprise high purity platinum (Pt) alloyed with a nominal gold (Au) content of 5%. This translates to practical use temperatures of approximately 1200°C (2192°F). Platinum crucibles alloyed with low levels of gold remain the industry benchmark for long service and high performance in sample fusion applications. They boast higher mechanical stability to reduce the risk of failure due to platinum corrosion, which can cause localized structural weakness at the grain boundaries of platinum products.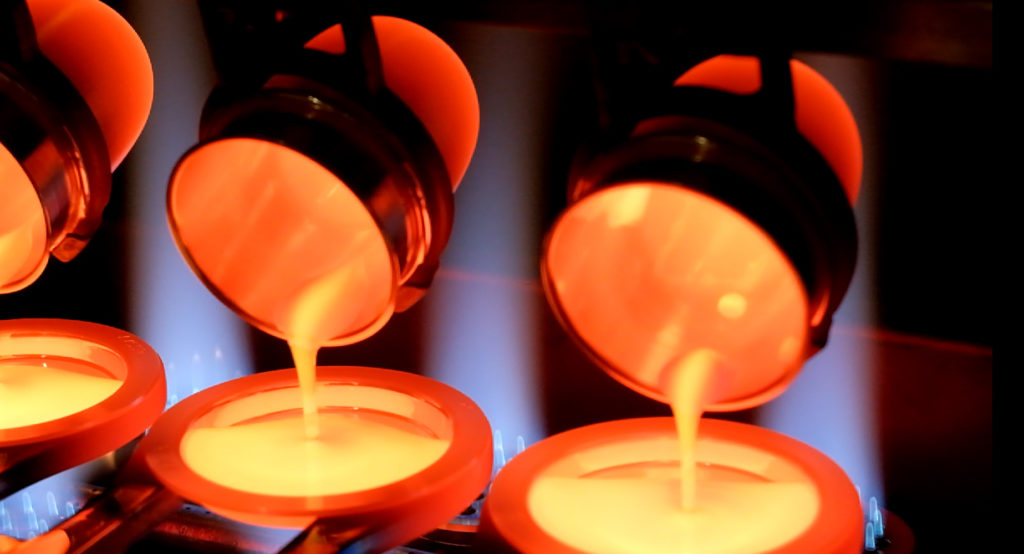 Arsenic (As), for example, is a common element observed in XRF analysis. However, arsenic readily reacts with platinum at elevated temperatures to form eutectic mixtures at structural weak points in the platinum crucible or mold. Platinum—arsenic compounds have a significantly lower melting point than pure platinum or desirable platinum alloys. These compounds can disintegrate under test conditions, leading to sample contamination and potentially causing the platinum crucible or mold to prematurely fail. Using a platinum—gold alloy decreases the risk of platinum crucibles succumbing to chemical attack or some other form of thermochemical failure.
Silicon carbide (SiC) is another source of platinum poisoning that can cause irreversible cracks and fractures. The silicon carbide heating elements of electrical fusion furnaces can cause carbon (C) or silicon (Si) enrichment within platinum labware, which results in structural weaknesses with melting points below 1000°C (1832°F). There is a significantly reduced risk of mineralogical platinum poisoning using the Phoenix line of gas fusion machines, due to the elimination of silicon carbide heating elements. They utilize natural or propane gas to heat samples, without requirements for oxygen or compressed air. Our Phoenix platinum crucibles and molds are designed for an optimal fit in all Phoenix fusion furnaces, with accurate and retainable flatness for correct and reproducible results.
Phoenix platinum labware can be manufactured by using optional fine-grain stabilized intermediate materials, known as our XRS (X-Ray Stabilised) platinum. These offer higher initial strength than standard platinum—gold alloys and significantly improved resistance to contamination. This is accompanied by outstanding deformation resistance, ensuring a fully homogenous surface for sample beads and discs.
Platinum Crucibles from XRF Scientific
XRF Scientific is one of the world's leading suppliers of platinum crucibles and fusion flux solutions for XRF and ICP sample preparation. We have developed a broad range of platinum crucibles and molds optimized for distinct operating conditions. If you would like to learn more about choosing a platinum crucible, simply contact a member of our team directly.